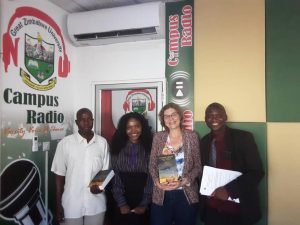 On Thursday 30 January 2020, two new books on migration were presented at Great Zimbabwe University (GZU) by its representatives, including Pro-Vice Chancellor Adrew Chindanya, the Deans of faculties, together with Prof. Mirjam Van Reisen, Professor of International Relations, Innovation and Care at Tilburg University. The two books are part of a book series Connected and Mobile: Migration and Human Trafficking in Africa. The launch at the GZU came as a sequel to the book presentations which took place in Ethiopia and Uganda in November 2019.
During the book presentation, Prof. Munyaradzi Mawere from GZU called for thorough research on human trafficking in Zimbabwe and in the south of Africa, as this area is greatly underrepresented in academic research, even though human trafficking is widespread in the region. He further emphasized this research gap during an interview for the GZU Campus Radio, stating that various patterns of human trafficking occur in southern Africa "in silence". Prof. Mawere urged African researchers to take their responsibility in exposing these human rights abuses through their research and help to fill the gap in laws and policies. As a sign of growing cooperation among academic institutions, representatives signed a Memorandum of Understanding in order to advance this relationship and mutual collaboration.
Prof. Van Reisen explained that in the books Roaming Africa: Migration, Resilience and Social Protection and Mobile Africa: Human Trafficking and the Digital Divide, editors and a group of researchers explore the movement of people in Africa, and challenge negative and security-centered perspectives through which mobility and migration are often viewed. Authors also analyzed the growing role of digital technologies and connectivity in human trafficking in Africa.
Mobile phones and mobile money are increasingly used by human traffickers as a tool to extort money from victims and their families. Prof. Van Reisen stressed that even though she is an advocate of a digital innovation, people often avoid to talk about dangerous sides of technologies. "Some of its use and impact is very dark and thus we have to find a way to talk about it and write about it" said Porf. Van Reisen for GZU Campus Radio. She further stressed that academic publications are very important in order to advance a reading culture of the modern society, as books offer readers the possibility to reflect on the topic and discuss it. Much information is available only through social media and internet; however, Prof. Van Reisen said that co-authors of the books find out that "reality is often very different on the ground" while conducting research.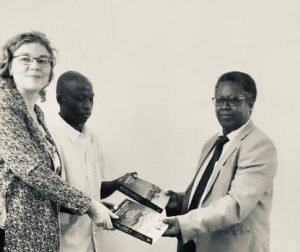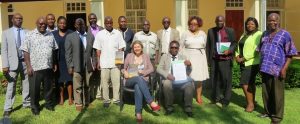 Roaming Africa: Migration, Resilience and Social Protection (ISBN 9789956551132) and Mobile Africa: Human Trafficking and the Digital Divide (ISBN 9789956551019) are published by African Books Collection (Oxford, United Kingdom) and are available through their web shop: www.africanbookscollection.com