The global situation concerning COVID-19 is dire but it could get decidedly worse if the coronavirus starts infecting more of the world's most vulnerable populations and communities who have limited access to prevention and health care, the Executive Director of UNICEF, Henrietta Fore, states. Even without a pandemic, those living as refugees, migrants, internally displaced people (IDP) or people living in slums face immense barriers to accessing health, water and sanitation systems. A 19-year-old girl, Asilia*, who lives in a slum area in Eastleigh, Nairobi, Kenya, provides an insight into what life looks like in one of such situations.
Current situation in Kenya 
On April 7, Kenya had a total of 158 confirmed COVID-19 cases with 6 confirmed deaths. The total on the African continent is 10.105 confirmed cases with 490 confirmed deaths. Matshidiso Moeti, the WHO Africa head, said that Africa's window to halt the coronavirus "is narrowing every day". 
On April 6, the President of Kenya, Uhuru Kenyatta, imposed a ban on movement in and out of four main COVID-19 "infected areas" – Nairobi, Mombasa, Kilifi and Kwale. Kenyatta stated that "[t]he movement of food supplies and other cargo will continue as normal during the declared containment period through road, railway and air". However, Asilia already heard some rumours of a lockdown and stated that "people don't have food". 
Shortage of food
According to Asilia, the place in the picture is called St Johns where Majengo people live, they were waiting for food to be distributed because there is a shortage of food; "but the majority didn't get it".  She states that the situation is "not good because the government has not yet realised the relief food and here all businesses have been closed we are just indoors and the government has banned all the gathering meetings".
Social distancing impossible 
Lack of funding and years of fighting have gutted critical infrastructure in several parts of Africa – sheltering millions of refugees and other vulnerable people. This could leave many countries unable to respond to a surge in infections, said Crystal Ashley Wells, regional spokeswoman for the International Committee of the Red Cross (ICRC) in Nairobi. 
Eujin Byun, a spokeswoman for the UN refugee agency (UNHCR) in Kenya said that having so many people living in close proximity is one of the major risk factors for the spread of the virus. The UN Migration Agency (IOM) states that physical distancing and isolation are extremely difficult in these densely populated, overcrowded camps where land is already limited. Furthermore, these settings are challenging places for the elderly and people with pre-existing conditions to live. The threat this virus has on their health is particularly worrying. 
Weak sanitary facilities  
Despite the number of reported and confirmed COVID-19 cases among refugees remains low, over 80% of the world's refugee population and almost all the IDP live in low to middle-income countries. Filippo Grandi, the UN High Commissioner for Refugees stated that most migrants and refugees live in densely populated camps or in poorer urban areas with inadequate health infrastructures and water, sanitation and hygiene facilities. Grande notes that prevention in these areas is of paramount importance.
Clean water 
Asilia said that some water points were "destroyed" but they "tried to rebuild the water sources". Clean water and soap are often in very short supply in shelters or informal urban settlements – places where refugees and migrants live. When an infectious disease – like COVID-19- hits, their risk is compounded, said Henrietta Fore, the Executive Director of UNICEF.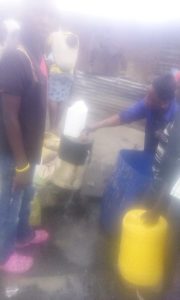 * Due to privacy concerns, this is a pseudonym. The source is known to the author.