In this last article of the year, it is time to lo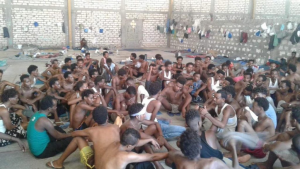 ok back at some of the events of the past year in the context of forced movement along the Central Mediterranean Route. In 2019, approximately 1,246 people died in the Mediterranean Sea, and even more on land, during their journey to safety. It was a year in which the European Union secured and externalised its borders, making it harder for asylum seekers to enter Europe. It was also another year in which migrants and refugees in Libya were facing inhumane conditions that continue to be unaddressed. Responsibility sharing was a main topic of discussion among EU member states. In addition, a new relocation system was put in place, Salvini made his exit as Italian deputy Prime Minister, and the criminalization of rescue operations in the Mediterranean Sea did not stop NGOs from saving lives.
The fortress of Europe
In 2019, the EU extended its borders and provided African countries with more funding to 'fight irregular migration'. According to EurActiv, this has negative consequences as "[t]he outsourcing of European services to African countries leads to diversion of routes, increased dangerousness of the road, informal trafficking and human rights violations".
Borders in Europe remain extensively controlled during this year. Billions have been given to security measures, including the construction of different types of walls around Europe. The EU formed the European Border and Coast Guard standing corps that will help EU member states to control the borders from 2021 onwards. In Croatia, the protection of its border appeared to go hand in hand with abuse and human rights violations.
Conditions in Libya
In January this year, Human Rights Watch and the United Nations reported on the horrible conditions in the Libyan detention centers – where people are suffering from abuse, torture, rape and lack food, water and health care. Deaths continue to be reported as people suffer from Tuberculosis, which is untreated or ineffectively treated due to lack of food. The EU and Italy are accused of facilitating these conditions through their continued collaboration with the Libyan coast guard and funding to Libyan authorities. The situation outside the detention centers has also worsened this year. Refugees and migrants in Libya are victims of the ongoing war; approximately 40 people died and many more were wounded when Tajoura detention center was bombed on July 2.
So what has been done this year?  The UN refugee agency (UNHCR) found "solutions out of Libya" for 2,142 migrants and refugees in 2019 – "including the resettlement of 723 individuals". Rwanda made a deal with the UNHCR and the African Union, and offered places in a transit facility for vulnerable migrants and refugees that were stuck in Libya. However, critics worry about the human rights situation in Rwanda and criticize the EU for "outsourcing the crisis to poor African nations".
The global solidarity crisis
Who should take responsibility for the protection of people trying to make their way to Europe? That was a central question this year. Former Italian Minister of Interior Matteo Salvini felt that the other EU member states should take more responsibility and held off many ships that carried rescued migrants and refugees, for which he may face trial. NGO rescue vessels that saved refugees and migrants drowning in the Mediterranean Sea were not allowed to dock and were forced to wait at sea for days or even weeks. Salvini demanded NGOs to be fined for conducting these rescue operations.
In September, a solution was proposed for the disembarkation of boats. A relocation system would divide migrants and refugees that are saved from the Mediterranean Sea among the participating member states. But only five (later eight) countries participated in the resolution and when in October rescue boats wanted to dock, they still had to wait for days while the participating countries figured out what it was they had agreed upon.
The people that made it to EU soil often arrived in overcrowded refugee camps, for example in  Greece or Malta. Greece announced multiple times that the limit was reached, as refugee camp Moria is hosting 15,000 people in a camp designed for 3,000 people. It is time to share the burden, Greek Prime Minister Kyriakos Mitsotakis repeatedly stated. The Greek government will initiate a reconstruction of its refugee camps in 2020, building closed detention centers.
Next year
On a positive note, 100 Members of the European Parliament have signed a letter to the European Council, hoping to end the human rights abuses on the Greek islands. At the Global Refugee Forum in December, Member States have pledged for more than 30,000 resettlement places. In Ethiopia, refugee leaders organised their own Summit to urge for more space for refugee voices in the decisions that govern their lives. The European Commission has identified three key challenges and state they will undertake "[u]rgent action to improve the conditions in the Eastern Mediterranean", create  [m]ore solidarity on search and rescue" and "[a]ccelerate evacuations from Libya". Whether these promises will be fulfilled, we will see next year.