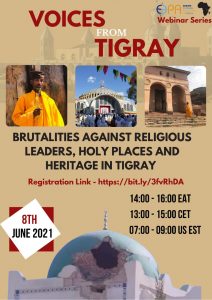 On 8 June 2021, the webinar "Brutalities against Religious leaders, Holy Places and Heritage in Tigray Confirmation" took place in the framework of the webinar series "Voices from Tigray". The aim of this online meeting was to give a platform to testimonies of witnesses, describing the large-scale destruction and looting of cultural and religious heritage that occurred during the conflict in the Tigray region. Furthermore, religious leaders and local priests reported brutalities, atrocities and massacres against civilians, including religious leaders, that took place in holy sites, such as in the Maryam Tsion Church, in the Al-Nejash Mosque and in the Debre Damo monastery. After having listened to various witness testimonies, speakers called on the international community to put pressure on the Ethiopian government to push for the withdrawal of external troops from Tigray, by imposing sanctions; as well as support the reconstruction and recovery of the religious, cultural and historic heritage destroyed and looted during the conflict. Finally, experts reiterated the need for free access of humanitarian aid to the Tigray region.
Webinar proceedings (including all testimonies) can be found here: webinar proceedings.
The meeting was chaired by Dr. Reginald Nalugala, from Tangaza University College. The opening remarks were made by His Eminence Archbishop Angaelos, from the Coptic Orthodox Church of the UK. In his introduction to the panel, Archbishop Angaelos stated that destruction of heritage and the suffering of civilians are issues of extraordinary importance and webinars can help people to understand the current situation in Tigray. The Archbishop underlined that seeing holy places ruined is a tragedy, but even more tragic is the destruction of heritage that these places guarded. Finally, Archbishop Angaelos asked the public to pray for people suffering daily in Tigray and Ethiopia, highlighting that: "we do not want to have tribalism, we believe in the importance of life and dignity which are also enshrined in the international treaties." 
Helen Berhane, a former prisoner of Conscience and Campaigner for Human Rights in Eritrea, started the panel of witness testimonies. Helen described how she was arrested several times since 2002, due to her affiliation to Rhema Church in Asmara, Eritrea. Attacks on religious groups increased during the years, and Helen was detained first in Adi Abeto prison and then in a shipping container in Mai Serwa. There, she lived in dire conditions for 10 months with a woman with severe mental issues. During her total 32 months of imprisonment, Berhane was beaten and tortured by guards for her faith. Helen Berhane concluded her speech by stating that her main goal is to give voice to "the hundreds of others who still are in that awful situation and cannot speak for themselves. Some have been detained for more than 15 years." Helen asked the international community to take forward the 2016 recommendations of the UN Commission of inquiry which recognised the religious persecution and other crimes against humanity in Eritrea. 
The webinar gave voice to the many accounts of survivors detailing the harrowing experiences and events occuring in Tigray. There were seven testimonies covering eye witness accounts that detailed the persecution of religious people from all over the Tigray region. Eritrean soldiers were reported as deliberately targeting religious elites and places of religious and historical significance. Witness accounts described how mosques, churches and monasteries in over twenty religious sites were deliberately bombarded by Ethiopian and Eritrean soldiers since the conflict began. Speakers covered various known and lesser known events: On 27 November 2020, just before the Aksum annual festival of Hidar Tsion, Eritrean soldiers opened fire on the Maryam Tsion Church resulting in the deaths of many civilians, including youths. In the town of Negash the Al-Nejash Mosque, the first mosque in Africa, was bombed and vandalised by Ethiopian troops on November 24 and 25 2020. The dome of the church and the rooms surrounding the main church were completely destroyed. Over eighty civilian Muslims and Christians were slaughtered by Eritrean soldiers. The Debre Damo monastery was bombarded by 28 heavy artillery shells and was later looted by Eritrean forces. Dr. Khataza Gondwe, Head of Advocacy and African Middle East Team Leader at Christian Solidarity Worldwide, stressed that these examples of desecration were a part of a "systematic and intentional" effort on the part of the Eritrean government and "reflects the Eritrean government's treatment of religious and belief communities in its own country."
After the testimonies, Dr. Alula Tesfay Asfha, Lecturer at Mekelle University, Ethiopia, underlined that many of the massacres that happened in Tigray since the beginning of the conflict "were perpetrated within compounds of religious institutions," and that "religious leaders were among the main targets of these killings." He stated that "these people are guardians of heritage and at the core of community cohesion," and underlined that "people seek refuge in [religious] institutions in times of crisis." He concluded presenting some proposals to how the international community can help stop "the brutalities against religious leaders, holy places, and heritage in Tigray," including withdrawal of all "alien forces" from Tigray, financially support "religious institutions to strengthen themselves", flagging of liturgical or heritage articles found in the global market to be handed back to their original locations, and support in "training the next generation of Tigrayans to rehabilitate the nation from the wounds of this genocide."
Dr. Hagos Abrha Abay, Researcher of Philology and Ge'ez Manuscript Culture, sketched a picture of the religious and cultural heritages of Tigray, and drew attention to the Church elites and historical icons targeted during the conflict. Fisseha Tekle, Amnesty International researcher for Ethiopia, highlighted that Amnesty International documented serious human rights violations happening in Axum, stating that "that was just the tip of the iceberg." He drew attention to the serious disregards for religious heritages in Ethiopia, and the violation of religious rights. 
Wolbert Smidt, Ethnohistorian at Jena University and Adjunct Professor at Mekelle University, underlined that it is important to give a space to the voices in Tigray, in order to better understand what is going on on the ground. He said that an attack on a building or an icon is not just a simple attack, but it is an attack on the culture and identity of people. He said that "military commanders are well aware of this," stating that "if we look at historical traditions, we see that at any time of conflict and political turmoil, there has been a sacred place offered by the society where anyone can find refuge. And anyone means anyone." He concluded by stating that from the destruction of sacred places, the main message people in Tigray are receiving is that "you don't have any refuge, no space for you as a society."
Benoit Lannoo, of the Ecumenical, Interfaith & Interreligious Dialogue, also underlined that Tigray is home to numerous cultures, traditions and civilizations that date back millenia.
The speakers underlined  that the international community should condemn the violations occurring in Tigray, in particular to:
Place pressure on the Ethiopian government to remove all alien forces from Tigrayan territories by imposing an arms embargo and economic sanctions on all identified warring parties, mandating and equipping a peacekeeping force and enforcing a no-fly zone over Tigray.

Financially support traditional

and religious sites in the Tigray region and help reconstruct the religious, cultural and historic institutions that have been destroyed during the conflict.

Help find and relocate stolen artifacts and reinstitute them into their original locations.

Give humanitarian assistance to those affected in the Tigray region.
Watch the full webinar here: Voices From Tigray – Brutalities Against Religious Leaders, Holy Places And Heritage In Tigray