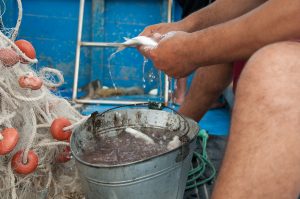 In this week's news highlights: Former Liberian minister and MEP call for international pressure and sanctions in EEPA webinar: Conflict-Related Sexual Violence in Tigray; UK government asked to table a UNSC resolution over Tigray sexual violence; Sir Lowcock reports to UNSC that humanitarian aid is prevented from reaching people in Tigray; Alex de Waal discusses sexual violence as war weapon in Tigray conflict; IDPs displaced in overcrowded areas in Tigray, IOM reports; Migrants face additional hardships due to COVID-19 restrictions in the Horn of Africa; Africa ExPress: Algerian Government expels migrants and refugees and leaves them in the desert; Photos of drowned children on Zuwara beach from unknown shipwreck; EU FRA agency report shows discrimination among public authorities towards migrants; Refugees subjected to extreme security measures in Greek camps; Hundreds of Moroccan children live in squalid conditions in Ceuta; IOM hosts international dialogue discussing the impact of environmental disasters on migration.
For frequent updates about the situation in the Horn, please see the EEPA Horn situation reports. 
Greater Horn of Africa
Webinar: Voices from Tigray – Conflict-Related Sexual Violence in Tigray
The webinar "Conflict-Related Sexual Violence against Women in Tigray" took place on 25 May 2021 in the framework of webinar series "Voices from Tigray". It was chaired by Hon. Julia Duncan-Cassell, former Minister of Gender in Liberia. The webinar gave a platform to testimonies of witnesses, who described the atrocities that occurred in the conflict in the Tigray region. The panel was opened by Member of the European Parliament Assita Kanko (ECR), who said that the European Union has the duty to listen and "commit to a message of hope, and the promise of action." MEP Kanko strongly condemned the presence of Eritrean soldiers in the Tigray region, and concluded by calling  for actors to "concert and coordinate international pressure and targeted sanctions." Consequences of rape and gender-based violence on Tigray women and girls and the implication of soldiers, particularly Eritreans, in these crimes were highlighted by international experts, who called for the withdrawal of the Eritrean troops from Tigray, the immediate cessation by all parties of rape as a weapon of war, and referral of Eritrea to the International Criminal Court. The next webinar in the series will take place on 8 June. 
Ethiopia: UK government requested to table a UNSC resolution  over sexual violence in Tigray
On 26 May, Helen Hayes, Labour member of the UK parliament, put forth a motion in the UK parliament requesting that the British government take action against gender-based violence used as a weapon of war in the Tigray region.  The UK, as permanent member of the United Nation Security Council (UNSC), was asked by Hayes to table a resolution at the UNSC that would set up a tribunal to investigate gender based violence in the Tigray conflict as a war crime, a crime against humanity and/or as an act of genocide. The motion comes ahead of 19 June, UN Day for the Elimination of sexual violence in conflict, which has been noted as a key date for the UN Security Council to speak up against sexual violence in general, and in Tigray particularly. Countries which are members of the UNSC can table such a resolution.
Ethiopia: Aid workers hindered from giving aid to population at high risk of famine
Mark Lowcock, the UN Emergency Relief Coordinator, said to the UN Security Council that "[t]here is a serious risk of famine if assistance is not scaled up in the next two months" in Tigray. This alert has been supported by Famine Early Warning System Network (FEWS NET) data, which showed that around 3.3 million people living in northwest and southeastern areas are without food supplies and around 20% of them are at the edge of famine. Sir Lowcock stressed that, despite all of 3.3 million people in those areas having been targeted to receive urgent support, access for humanitarian aid actors has been recently blocked and humanitarian employees have serious difficulties to reach high-risk areas. Sir Lowcock underlined: "[h]umanitarian operations are being attacked, obstructed or delayed in delivering life-saving assistance. Eight aid workers have been killed in Tigray in the last six months, including most recently a staff member for a local NGO who was distributing food." As reported by VOA news, aid workers have been able to reach, since March 2021, only about 1.8 million people out of a total population of 5.2 million people in critical need of food and medical supplies.
Ethiopia: Widespread and systematic sexual violence a starvation crime, says Alex de Waal
On 26 May, the Italian Institute for International Political Studies (ISPI) held an online meeting titled "Ethiopia: Too Big to Fail", with the purpose of gathering together international experts to answer questions about the conflict in Tigray and the role of the international community. Among the panelists there was Alex de Waal, Executive Director of the World Peace Foundation and research professor at The Fletcher School at Tufts University, who underlined that the conflict in Tigray is a threat to international peace and security. He also said that the "deliberate destruction of what is required to sustain life has been done in such a scale [in Tigray] that the food economy has massively contracted," leading the region into a famine. He added that widespread and systematic sexual violence can be counted as a starvation crime, because those victims who survived a rape, particualrly "women that have been raped in cruel ways", will not be able to care for themselves, as they will be fearful to go out to collect food. When asked about what options the international community has in face of the humanitarian crisis that is unfolding on Tigray, de Waal stated that UN Security Council Resolution 2417 is "still on the table." Resolution 2417, adopted in 2018, condemns forced famine and starvation as war weapons against civilians, and allows the UN Security Council to give such cases its full attention. De Waal underlined that Resolution 2417 can be used to impose sanctions, which, according to him, in the Tigray case should target those individuals that are hindering humanitarian access and political process. He remarked that Eritreans are among those individuals, and that its refusal to withdraw is a "major problem."
Ethiopia: IOM data report on IDPs in Tigray region
The International Organisation for Migration (IOM) published an analysis conducted by the Displacement Tracking Matrix (DTM) in collaboration with Ethiopia's National Disaster Risk Management Commission (NDRMC). This report collected data of Internally Displaced Persons (IDPs) in Tigray, through a monthly Emergency Site Assessment. Figures have been collected since the start of the conflict, on 4 November 2020. The assessment showed that there are 1,645,944 known IDPs in the Tigray region, 48,420 in Afar region and 20,812 in Amhara region. Despite the recorded data, the number of displaced persons in the Tigray region is not complete, as some rural Northwestern, Central, Eastern and Southern areas are not reachable by humanitarian actors. IDPs are mainly concentrated in Shire, Adwa, Sheraro and Mekelle zones, where schools and collective shelters are overcrowded. DTM data analysis revealed that there is an increasing need for food and medical supplies in all shelters and conflict areas.
Horn of Africa: Migrants and refugees affected by COVID-19 restrictions, IOM report
On 14 May, the International Organization for Migration (IOM) released its annual flagship report on migration trends and population movements in the Horn of Africa region, which highlights that at least 300,000 migrants and refugees across the East and Horn of Africa have been affected by COVID-19 restrictions in 2020. The report says that the journey that thousands of migrants – mostly Ethiopian – undertake to reach Saudi Arabia via Yemen was halted, resulting in persons becoming stranded in Djibouti, Somalia and Yemen. The report underlines that there has been a 73 percent drop in the number of crossings to Yemen from the Horn of Africa compared to 2019. The lives of these people were severely impacted, says IOM, as they largely depend on informal employment and the possibility to cross borders for work and their survival. The IOM report highlights that causes of migration in the East and Horn of Africa, in particular poverty, conflict, repression  and environmental events, are still there, but the economic drivers have been further exacerbated by the COVID-19 pandemic. Mohammed Abdiker, Director of the IOM Regional Office for East and Horn of Africa, said that "[m]oving forward, we need to advance real alternatives to irregular migration and promote sustainable reintegration for migrants returning home."
North Africa
Algeria: People expelled and abandoned in the middle of the desert
Africa ExPress reports that even though Algeria officially closed its borders for 14 months due to the COVID-19 pandemic, the Algerian government has continued to systematically expel migrants and refugees to Niger. Africa ExPress says that many NGOs, including Médecins Sans Frontières (MSF), have collected testimonies on the treatment migrants face in Algeria. The evidence, says Africa ExPress, highlights that people without valid documents are arrested, usually under force, and brought to expulsion centres, where they stay for days, weeks and sometimes months. Those expelled are forcefully brought by bus or by truck in the middle of the desert, from where they are forced to walk about 15 km to reach Niger's border. Africa ExPress says that according to testimonies gathered by other sources, many migrants and refugees left in the desert get lost, and are either found dead or disappear. Testimonies collected by MSF also highlight that migrants and refugees are victims of violence, torture and their mental health is jeopardized. 
Libya: Photos of babies and toddlers drowned off Zuwara coasts
The Guardian reported that photos of children, toddlers and women drowned off Libya's coast have been published on Twitter by a member of a charity rescue group. According to Oscar Camps, the founder of Proactiva Open Arms, "[t]hese small children and women had dreams and life ambitions." The bodies were found on a beach in Zuwara, on Saturday 22 May. According to Flavio Di Giacomo, UN spokesperson for the migration agency in Italy, the departure and shipwreck timing have not yet been confirmed, as investigations are still ongoing. Due to the high number of unrecorded shipwrecks, this one could be included to the list. The images were published as Mario Draghi, the Italian prime minister, and Emmanual Macron, French President, were meeting on joint migration management cooperation. 
Europe
Greece: New security systems will "imprison" refugees and asylum seekers in refugee camps
Refugees, asylum seekers and international organisations have decried the decision by authorities in Greece to construct 10-feet high concrete walls around 25 refugee camps. There are also proposals to install a surveillance system in 39 camps across the mainland and the Greek islands, which would include drones to monitor refugee activity, magnetic gates with integrated thermographic cameras, x-ray machines and security cameras at the entry and exit points and an implementation of martial law. 75% of the cost to put up the walls and other security systems will be paid by the European Internal Security Fund, which is largely managed by the European Commission. The Greek Ministry of Asylum and Migration has attempted to justify these stringent measures as "protection of local communities and the protection of residents". However many have accused Greek authorities of isolating refugees and asylum seekers from the local population. One refugee stated "I am a human being, I don't need a wall. They make me feel like a prisoner." Petra Molnar, of Refugee Law Lab think-tank, stated the security systems were "a dangerous global trend of bolstering the border industrial complex through invasive surveillance technologies and physical walls". 
EU: EU FRA agency shows minorities are more likely to be stopped by police
The EU Agency for Fundamental Rights (FRA) has recently released a report indicating that minority groups, in particular Roma and sub-Saharan people, face high level of discrimination by local authorities. Overall, according to the FRA survey which covered 27 EU countries, discrimination based on profiling is related to ethnicity, religion and sexual orientation. In this framework, people are more often stopped for random controls by local authorities compared to other sections of the population. The Guardian, has reported several examples where a higher probability of being stopped by police has been found in various EU countries such as Spain, the UK, Croatia and Greece. The FRA report states that "[n]early half (49%) of immigrants and descendants of immigrants from sub-Saharan Africa in Austria were stopped by the police during a recent sample year, compared with 25% of the general population," reports The Guardian. Evidence of racism among public authorities has been supported also by a 2020 Amnesty International report, in which it showed the presence of an "institutional racism within the Austrian police force and other component parts of Austria's criminal justice system." 
Spain/Morocco: Over a 1,000 children living in horrid conditions in Ceuta
Over 400 unaccompanied children and teenagers from Morocco are reported to be sleeping on the city streets of the Spanish enclave of Ceuta with a further 800 having been placed in cramped warehouses near the Spain/Morocco border crossing. The conditions of the state-run warehouses have been described as overcrowded and inadequate with children mentioning insufficient bedding, a lack of food, broken bathroom facilities and floors covered in excrement. One child stated that "I would prefer to sleep in an abandoned car, like I did the first few days here. It's more comfortable". Spanish minister for social rights, Ione Belarra, stated that there has been an uptick in unaccompanied children as young as "seven, eight, nine years old." Carlos Rontome, a Ceuta deputy leader, stated that Ceuta "cannot cope, there are too many children." The increase in child refugees is said by analysts to be a part of a wider political move from the Moroccan government to relax the country's border controls and increase migration flow so as to place pressure on Spain in the hopes that Spain will acknowledge Morocco's claim to the Western Sahara. Virginia Álvarez, of Amnesty International Spain, stated that "Morocco is playing with people's lives" using children "as pawns in a political game".
World
World: International Dialogue on Migration discuss the devastating impact of climate migration
On 25 and 27 May, the International Organisation for Migration (IOM) hosted the International Dialogue on Migration (IDM) online to discuss the impact of the COVID-19 pandemic on climate migration and the potential future impacts this crisis may have on global trends. According to IOM, climate change and its environmental consequences have been a catalyst for migration and its effects are increasing in scale. According to the Internal Displacement Monitoring Centre, approximately 30.7 million people across 149 territories were displaced domestically due to environmental crises in 2020. In total 55 million people were reported to have been displaced by factors stemming from climate change; the highest number in the last decade, tripling the amount of migrants and refugees displaced due to conflict and violence. The cost of climate change disasters on local economies amounted to an estimated 20.5 billion USD in 2020. This combined with lockdowns and border closures stemming from the COVID-19 pandemic have further impacted migration movement and led to climate refugees and migrants becoming trapped and stranded in dangerous environments unable to flee or return home. Predictions made by the World Bank estimate that there will be potentially 143 million internal climate migrants by 2050 if no climate action is taken.